Cycling as a whole is a great way to keep fit and active, but sometimes the weather, time constraints or traffic can be a hindrance.
Fortunately, you can also do indoor cycling as an alternative to still get some of the benefits of cycling, although the experience may be slightly different.
Here are some of the benefits of cycling indoors.
More efficient in saving time
Time efficiency is one of the best benefits of indoor cycling. You can have a stationary bike in your gym or even in your house.
All you need to do is to use the bicycle whenever you're free and you'll be able to get a good workout.
If you have a bicycle at home, you can even work out at night without others disturbing you.
Avoid bad weather
One of the best advantages of indoor cycling is that you're not affected by bad weather outside.
You can just follow your routine of cycling as always regardless of whether it's too hot, snowing, raining or so on.
In a way, the consistency helps you to maintain your fitness routine all year round.
Reduced risk
Cycling outside definitely has a safety risk even if your country has bicycle lanes. There's always a risk of a vehicle not following the law and may accidentally hit you.
Hence, cycling inside a building will prevent that risk. Also, you won't be affected by difficult terrains or even naturally formed holes on the road caused by flooding and so on.
You can customize your workouts
Indoor cycling is good in the sense that you can adjust your workout experience.
Of course, it depends on the type of stationary bicycle you're using. Even the more basic ones have resistance knobs that can be adjusted.
To make your workout tougher at times, you can just adjust the resistance. It helps to train your leg muscles as well.
Different type of entertainment
The more sophisticated bicycles also have screens that you can look at in case your workout is boring.
Some of the better ones like Peloton even has special scenic rides or even an array of classes that you can watch while you're cycling.
Apart from that, you can sometimes watch YouTube or even videos while you're cycling to keep yourself from getting bored.
Burns a lot of calories with resistance
As mentioned above, you can customize your resistance using the knob, or buttons if you're using a more expensive stationary bicycle.
To burn a lot of calories in a short time, you can increase the resistance and / or pedal a lot faster to increase your heart rate.
This can be done safely unlike outdoors where you have to watch for pedestrians and vehicles.
Friendly to your joints
Indoor bicycles are also consistent in the sense that the "terrain" is always smooth. You won't come across bumpy or rocky areas which are bad for your joints.
Hence, indoor cycling is a joint-friendly option and for the older group, it may be a better alternative.
Convenience and accessibility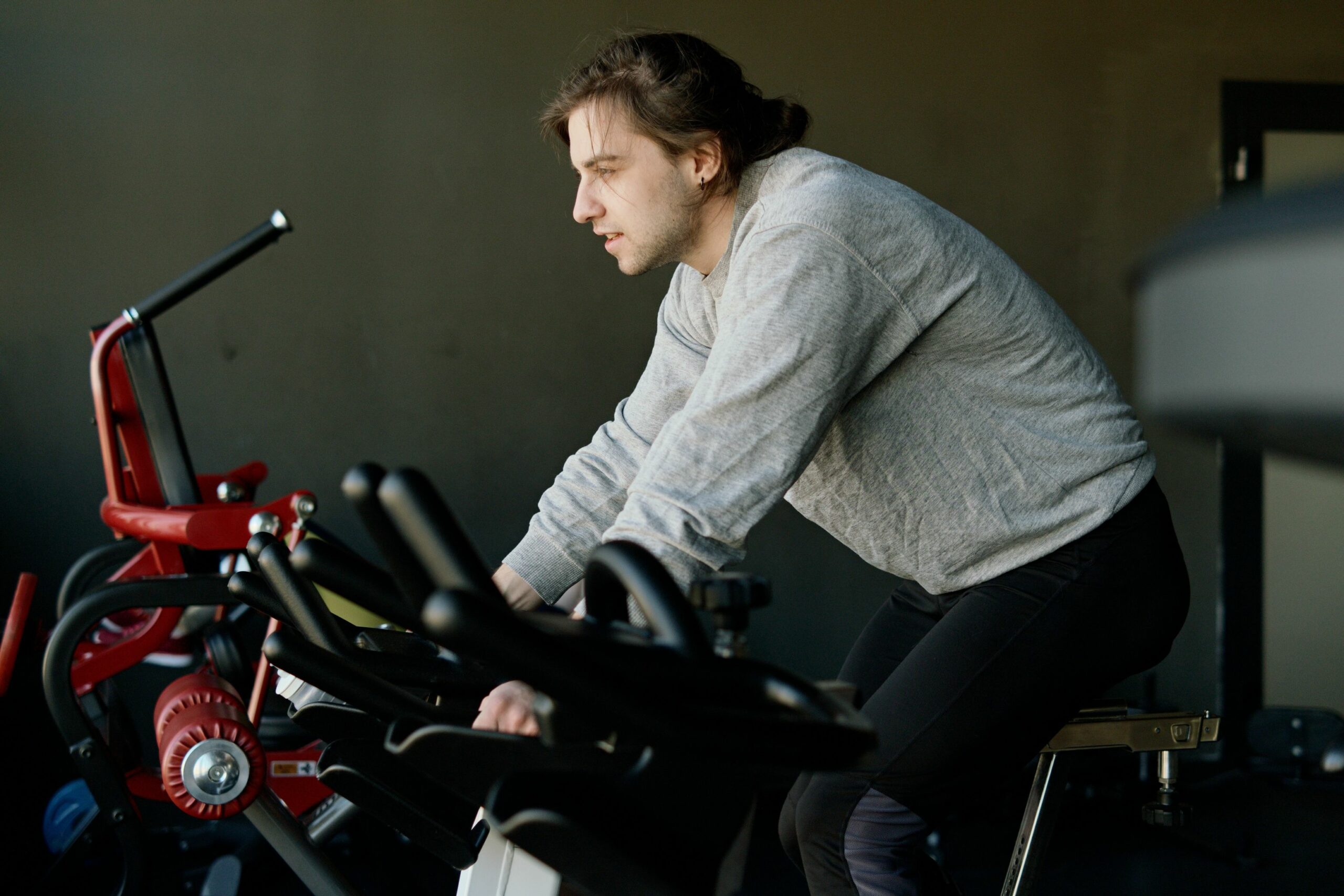 One of the main benefits of cycling indoor is definitely convenience and accessibility. You can buy a stationary bicycle for your house at a rather affordable price and you can use it anytime you're free at home.
Another way is to go to a gym and use their bicycle there, which is also accessible for most people.
The good thing about cycling at home or inside a gym is that you don't need to wear all sorts of cycling equipment which may be a hassle for some.
Easy to monitor progress
If you're using one of the more advanced stationary bicycles, you can also monitor your progress. Most of these machines come with metrics and tracking options to help you check your progress.
For e.g. you can check your heart beat, approximate calories burned, speed, distance covered and so on.
The feedback you get from the machine is helpful in determining and achieving your fitness goal for the month or year.
Aids in mental health
Cycling, whether outdoor or indoor, helps in mental health. It reduces your anxiety, stress or even depression because exercising in general releases endorphins.
If you find it hard to cycle outdoors, then try out indoor cycling to gain similar benefits to mental health.
In a nutshell
Indoor cycling is now a great alternative to outdoor cycling and there are many advantages of it as listed above. If you're looking for a way to get fitter without too much hassle, then try out cycling indoors.
---
Related articles:
The Best Full Suspension Mountain Bikes Under $1,000
8 Best Indoor Cycling Shoes for Your Spin Class (Buying Guide)