Mountain biking is one extreme sport that gets your heart racing by just thinking about it. Buying a mountain bike that makes this thought a reality gives an even better feeling.
However, it can be difficult to find affordable mountain bikes that don't wear and tear after use on the trail.
There are a lot of things to consider before buying a mountain bike under $200. Do you want one with an adjustable seat, rugged tires or a slick design?
Whichever style you want to buy, you can find within your budget. We have compiled a list of the best cheap mountain bikes under $200.
Note that some are slightly over $200. It's hard to find really good ones that can last if your budget is below a certain amount.
Image
Title
Prime
Buy
Mongoose Status Mountain Bike for Men and Women, Status 2.2, 26-Inch Wheels, Black/Red

Prime

Eligible

Buy Now
Mongoose Dolomite Fat Tire Mens Mountain Bike,17-Inch/Medium High-Tensile Steel Frame, 7-Speed, 26-inch Wheels, Navy Blue

Prime

Buy Now
Kent KZ2600 Dual-Suspension Mountain Bike, 26-Inch

Prime

Eligible

Buy Now
Northwoods Aluminum Full Suspension Mountain Bike, 24-Inch, Grey/Green

Prime

Eligible

Buy Now
Schwinn High Timber Mountain Bike, Steel Frame, 26-Inch Wheels, White/Blue

Prime

Eligible

Buy Now
Roadmaster - 26 Inches Granite Peak Men's Mountain Bike, Black/Blue

Prime

Buy Now
Merax 26" Mountain Bicycle with Suspension Fork 24-Speed Mountain Bike with Disc Brake, Lightweight Aluminum Frame

Prime

Buy Now
Top Mountain Bikes Below $200
1. Mongoose Status 2.2 Women's Mountain Bike
This bike provides a smooth cycling experience in uneven terrain such as mountains. It is affordable and transports you to your destination. The frame of this bike is made with a lightweight aluminum frame. At 16 inches, this frame is ideal for most women. Other users can adjust the height to fit in properly.
It features a full-suspension rig that provides comfort all through the ride. The suspension on the front and rear sides allow the rider to have full control of the bike.
The bike comes with 21 speeds and a SRAM twist shifter as well as Shimano rear derailleur. Riders have different options of gears and shifting is comfortable and seamless.
The Mongoose Status is built with a direct pull durable rear brake. This ensures that riders bike through uneven terrains with and noticeable wear and tear. Such brakes are ideal for all downhill rides and it has exceptional stopping power.
The tires allow riders to pedal backward without any interference from the brake. It comes with a 26-inch wheel and offers traction for different trail conditions like mud and dirt.
The alloy rims are also light and strong with a rust-resistant surface that increases the whole system's longevity.
2. Mongoose Dolomite Fat Tire Mountain Bike
This bike is one of the best on the market even though it costs slightly above $200. Its tires are extra wide to keep riders balanced as they go over rough terrains. They are gripped as well to ease cruising over bumps and rocks on the trail.
The double handle brakes are also impressive and give the rider control of the tires on the front and the rear. This feature makes it ideal for off-road cycling.
When it comes to comfort, this bike offers a good cushion bicycle seat which is adjustable as well. It helps keep the rider balanced while cycling.
3. Kent KZ2600 Dual-Suspension Mountain Bike
The Kent brand has been known for several years for producing affordable mountain bikes. It is great for beginner mountain bikers who want to practice on the trail daily. It offers a rare combination of style and appearance as well as quality.
The frame of this bike is made with aluminum and this makes it resistant to wear and tear. This guarantees the longevity of the bike when used in different terrains and climates. The bike weighs 40 pounds and this makes it the lightest in the category.
This bike is a dual suspension bike that is cushioned at the back and front. It uses a floating beam suspension that allows it to remain flexible as it rolls on the ground.
Its Shimano shifters to allow riders to enjoy 21 different speeds and a rear tourney derailleur. All these features produce a smooth feeling as well as excellent handling as the rider turns.
When it comes to braking systems, this bike is unique. It comes with a disc brake on the front wheel and a linear-pull brake on the back wheel.
These features are more common in high-end banks. The 26-inch tires give riders grip and traction as they ride through tough terrains.
4. North Woods Aluminum Full Suspension Mountain Bike
This North Woods bike looks unique and is popular for its sturdy frame, high quality, and full suspension. The frame makes use of lightweight aluminum which is found in high-end rigs. It weighs slightly over 42 pounds and this makes it an excellent bike for mountain riding.
The suspension is a full type rig that uses a 50mm steel crown fork for comfort as well as durability. Riders can make abrupt turns and quick maneuvers with ease due to this seamless design.
The shifters offer 21 speeds to prevent fidgeting and skipping to give the rider smooth transitions.
The braking system is made up of linear-pull brakes. It isn't an impressive as the others but it works well to stop movement abruptly. The tires are also wider than many in the same category.
It is advantageous because it offers good traction as well as handling capabilities. This gives the bike stability.
5. Schwinn High Timber Women's Mountain Bike
The Schwinn High Timber bike has a narrow design to let the rider take sharp corners. The mountain bike also has a lightweight advantage to offer full control as well as comfort.
The tires of this bike are ultra-thin and this may be a disadvantage since fatter tires make it easier to float in rough terrains. However, these tires allow the rider to cruise through spaces and narrow passageways.
So the trail you choose to go on will determine if this bike is the best for you. The rims are also durable to support the tires.
6. Roadmaster 26″ Men's Granite Peak Men's Bike
When it comes to affordability, the Roadmaster stands out. It is rugged and built to withstand dirt trails and asphalt as well as concrete.
It is versatile for any purpose and cheap as well for such good features. The adjustable handlebars and seat make it even more user-friendly. It offers comfort as well.
As for the tires, this bike has knobby tires that are chunky to push through rough terrains with ease. So if you need a mix of off-road and city streets, then this is an excellent choice.
7. Merax 26" Aluminum Mountain Bike 21 Speed Bicycle
This aluminum mountain bike is fancy and efficient. It offers both durability and safety with adjustability as well.
Riders can personalize the bile to fit their height and comfort. The handlebars, seat and even the gears are all adjustable.
This Merax Aluminum Mountain Bike costs a little over $200 but offers unique features that are mostly available in high-end bikes.
What to consider before buying cheap mountain bikes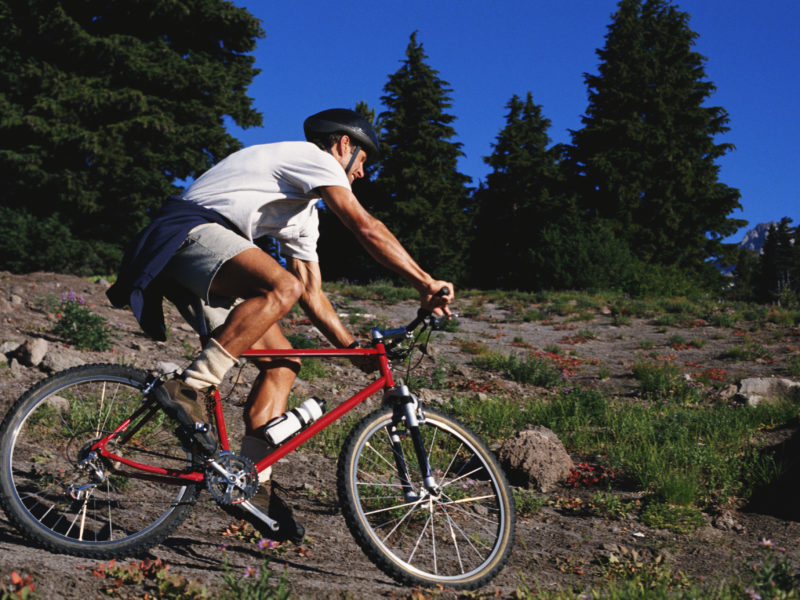 Tire performance
Good tires will affect the feel of your bike. When the tires are not wide, you can expect an imbalance that makes the ride more difficult.
When tires are too wide, it can also make the ride slow and annoying.
Tire texture matters as well. Are there indents on the tire? How is the grip? Do they climb over tough terrains? All of these should be considered.
You should also check the construction by checking the material used in making the rubber. It should be thick enough to prevent leaks.
Gear and speed
While on a trail, the ability to change speed or gear is important. this feature makes it easier to do so without over exhausting yourself.
For instance, the Shimano gear allows riders to change things so the legs can rest while they go through dirt, grass or even snow. It also preserves the structural integrity of the bike.
It is stressful to use a bike that has to be pushed uphill. Higher speeds are more enjoyable when it comes to mountain biking.
Another aspect to check is the adjustability of the handlebars or seats.
Comfort
This is the most important feature in the list. When a bike comes with gripped handlebars, proper seat cushions, great tire size, and adjustability, it is ideal for the purpose.
These features allow you to seat properly to prevent any stress on your arms, legs, back, and neck. If you are focused on finding one for comfort, then these features should be your priority.
Consider the terrain
The terrain matters because it would determine the most ideal mountain bike for you. Will you ride on a rocky, rough or rooted terrain? Such terrains require fat and knobby tires. Full suspension on the tires should also be considered.
Those riding on the streets with other off-road paths should opt for bikes with a hardtail suspension. Also, this factor is important because using the wrong bike could lead to severe injuries as well as muscle and chronic joint pain.
Also, note that popular brands do not equate quality. So do your due diligence before choosing any brand. Expensive also doesn't always mean quality.
Conclusion
Considering all these factors mentioned above would help you make an informed decision about the best cheap mountain bikes under $200.
Be sure to consider your personal preferences before picking one. Do you have special brands you trust? You can also look out for these features in their products.
A good mountain bike allows you to enjoy the sport in a safe and organized way.
So when you're searching for the best cheap mountain bikes under $200, go for comfort, durability, and adjustability.
---
Related Posts:
The Best Pivot Bikes You Can Buy
Best Upright Exercise Bikes To Choose From
Best Mountain Bike Shorts [Reviews And Buying Guide]
The Best Mountain Bikes Under $300
Best Mountain Bike Gloves For Long Distance Rides
Top Mountain Bikes You Can Buy Under $1500