Riding an electric bike is a win-win situation. It gets you active and outside, reduces your individual carbon footprint, and at the same time, allows you to contribute to help reduce traffic in your area.
It's even better if you go the folding electric bike route because, not only do you get the benefits of an electric bike, but it's also easier to store and transport.
With that said though, because there are so many folding electric bikes on the market, choosing just one can be quite challenging. This is especially true if you're not that big into bikes in the first place.
Thankfully, we're here to help.
Below, you'll find a list of the best folding electric bikes available today, as well as tips on how to choose the top folding electric bikes.
Image
Title
Price
Prime
Buy
Jetson Metro Electric Folding Bike with Twist Throttle, Pedal Assist, and LED Headlight - Black

Prime

Eligible

Buy Now
QuietKat Folding Bike Case, Traveling case to Store and Transport Voyager and Bandit Bikes …

Prime

Buy Now
Swagtron Swagcycle EB-7 Elite Folding Electric Bike, 16-Inch Wheels, Swappable Battery with Keylock & Rear Suspension (Black)

Prime

Eligible

Buy Now
QUALISPORTS Volador 20inch Seat Post Built-in Battery (36V 7Ah) Folding Electric Bike, 350W Hub Motor (Cruiser) Foldable Ebike with 7 Speed Shifter and Disc Brakes, Portable Folding Ebike for Adult …

Prime

Buy Now
CIVI BIKES Rebel Folding Electric Bike 20inch 500W 48V Fat Tire Electric Bicycle Foldable Snow Beach E-Bike

Prime

Buy Now
ANCHEER Folding Electric Mountain Bike with 26" Super Lightweight Magnesium Alloy 6 Spokes Integrated Wheel, Premium Full Suspension and 21 Speed Gears

Prime

Buy Now
Product prices and availability are accurate as of the date/time indicated and are subject to change. Any price and availability information displayed on [relevant Amazon Site(s), as applicable] at the time of purchase will apply to the purchase of this product.
Prices pulled from the Amazon Product Advertising API on:
What are the Best Electric Folding Bikes?
1. Jetson Metro
Folding electric bikes are usually not so affordable. This is because you have to pay the premium for having both an electric and folding bike. But all things considered, the Jetson Metro is reasonably priced.
In fact, it might even be the most suitable folding electric bike for someone who doesn't need something more than something that they can use to go to work or run short errands, or do single-digit commutes.
Simply put, what we're trying to say is that the Metro is not built for sheer performance. The frame-hidden battery can only supply, at most, 40 miles per charge. It's also relatively slow, with its 250-watt hub motor only capable of speeds up to 16 mph.
But, hey? Not everyone needs a performance bike. Most of us are content to have a daily companion that they can literally carry to work if need be, which is exactly where the Metro excels.
Pros:
One-year factory warranty
Cons:
Handlebar could be more secure when folded
2. QuietKat 2019 Bandit
The QuietKat 2019 Bandit is easily one of the best folding electric bikes on the market, bar none. It's a relatively fast and powerful folding electric bike that's capable of getting up to speeds of 19MPH unassisted, with an unassisted range of 20 miles.
And, oh, did we mention that's rated for use for up to 300 pounds?
Further adding to the Bandit's case of being one of the best folding electric bikes on the market is its large wheels and tired (20″x4″), as well as stainless steel chain and spring suspension fork.
These features all combine to create a comfortable and fun ride, even when you find yourself going through rough back-country terrain.
If you want a folding electric bike that you can literally ride everywhere, what the Bandit is offering is hard to pass up.
Pros:
Fat wheels and spring suspension fork for the optimal city and off-road comfort when used
Cons:
3. Swagtron EB-7
"Cheap" definitely isn't a word that most people would use to describe folding electric bikes. Let alone one that would be included in a list of the best folding electric bikes.
However, we'd be doing the Swagtron EB-7 a disservice if we didn't include it in our round-up, especially since it combines an attractive price point with a relatively robust feature set.
While the 15-mile range and the 18mph top speed aren't exactly what you'd call the top of the line, you have to remember that you're paying significantly less for the EB-7 than you usually would for a folding electric bike.
It certainly helps the EB-7's case that it comes with sizable 14-inch wheels, a headlight, a charging port, as well as throttle if you want to cruise.
Pros:
Commandable performance from 350-watt hub motor
Cons:
15-mile range leaves a lot to be desired
4. QUALISPORTS Volador 20
The QUALISPORTS Volador 20 is yet another folding electric that was not intended to perform. In fact, it's a fairly basic take on the modern foldable e-bike.
But basic doesn't necessarily have to be a bad thing, especially when the Volador 20 does everything it's set out to do quite well.
Equipped with 20-inch wheels and 7-speed gearing, as well as a 350-watt motor, the Volador 20 is capable enough. However, its main selling point, as already mentioned, isn't its performance, it's its weight.
Because it only weighs just 36 pounds despite being a full-function electric bike, it's the perfect companion for people who are looking for something to bridge the gap between the train or the subway and their workplace or home.
The Volador 20 might be a simple folding electric bike, but sometimes, simple works.
Pros:
Lightweight at just 36 pounds
Height-adjustable seats and handlebar to accommodate riders of various sizes
1-year manufacturer's warranty on bike components, with a 2-year warranty on the battery
350W high-speed brushless motor
Cons:
25-mile range isn't really a lot
5. Blix Vika+
The Blix Vika+ is nowhere near the "cheap" category, but it definitely isn't expensive either. It falls right in between the affordable and the expensive in terms of pricing.
However, it vaults itself into contention as one of the best folding electric bikes because of its attractive set of features.
Chief among these features is the 350-watt electric motor in the rear hub, with folding mechanisms found in the down tube and stem. It also has a 35-mile range, all thanks to its 11 amp-hour battery.
It's also equipped with a rear rack, headlights and taillights (both integrated), as well as a 7-speed Shimano Acera drivetrain.
To top these all off, the Vika+ has SKS front and rear fenders, 1.75-inch tires, and finally, leather grips.
In fact, the only thing missing from then Vika+ are disc brakes. But even without them, it's still an excellent buy for those looking to invest in a quality folding electric bike that has all of the features that a high-performing daily driver should have without the premium asking price.
Pros:
Comes with fenders on both sides
7-speed Shimano Acera drivetrain
Cons:
Folding mechanism doesn't work as smoothly as expected
6. CIVI BIKES Rebel
The CIVI BIKES Rebel is one of the least portable folding electric bikes on the market. So long as you're okay with that, then feel free to read on.
Weight issues aside, the Rebel is quite the performer. This is all thanks to its fat 4-inch-wide tires, as well as a 500-watt and 80nm rear hub motor giving it more than enough power than it needs.
And though they are optional, you can get mounts for the Rebel to have steel fenders, as well as both rear and front racks, which are definitely nice to have.
Last, but definitely not the least, the Rebel comes equipped with a Shimano Altus drivetrain, which is one of the best in its class.
Pros:
Fat tires for a comfortable ride regardless of the surface
Powerful 500-watt rear hub motor
Cons:
7. ANCHEER Folding Electric Bike
ANCHEER's quietly carved themselves a reputation as the go-to choice for people looking for affordable yet feature-filled electric bikes. A good example of this is their folding electric bike.
Priced well below most of its competition, Ancheer's folding electric bike is a clear winner in terms of value. It uses a lightweight aluminum frame and comes with shock absorbers on its front fork and rear frame, and is equipped with a 250-watt motor, which means that it's street legal in both the United States, as well as the EU.
As for battery life, you can expect as much as 30 miles from it with full pedal assist, or 15 miles if left to work on its own. This isn't much, but it's a lot if you really need a breather.
Other features include an overkill 21-speed Shimano transmission system, as well as the 26-inch magnesium alloy wheels.
Pros:
Comes with a lot of high-end features at a price point that's hard to beat
Huge 26-inch magnesium alloy wheels with slip-resistant tires
Cons:
Takes a long time to recharge
8. Gocycle GS
The Gocycle GS is easily one of the most expensive folding electric bikes on the market. But at the same time, it's also one of the more intriguing options.
We say intriguing because it being one of the top folding electric bikes is relative to you being perfectly okay with its unique looks. It's literally a bike that's quite unlike any other.
But for the price though, you do get a lot of high-end features. This includes a 25mm rear suspension travel, a monocoque frame, a 40-mile-range battery, as well as single-side mounting for both the front and rear wheels.
The GS is also a front-wheel-drive folding electric bike that can push as much as 500 watts worth of power. It also comes with traction control with hydraulic disc brakes.
Basically, so long as you're willing to pay the premium price (and you like the looks), the GS is hard to beat.
Pros:
Supports a multitude of optional accessories
Comfortable and responsive ride
Cons:
Non-adjustable bar height
How Do You Choose the Best Folding Electric Bikes?
Here are things that you'll want to keep an eye out for.
Motor
To be street legal in most countries, an electric bike needs to at least have a 250-watt motor. Most of the bikes on our list have a motor that's at least 250 watts. However, it's important to note that watts aren't the only factor.
Torque is also just important, which, for those that don't understand, is the amount of "oomph" a motor can provide, especially when coming from a full stop or low speeds.
Basically, in addition to the wattage, which determines just how much power a bike is capable of producing, the torque determines just how fast an electric bike can reach maximum power.
Generally speaking, with folding electric bikes, you won't need powerful motors. This is because they make the bike heavier, which negates the portability aspect of folding electric bikes.
Instead, you should focus on looking for an electric bike that has a battery large enough to accommodate your daily commute and charges in enough time so that you won't run out of juice whenever you need a breather.
Motor Placement
For the sake of simplicity, we're advising that you go and buy a folding electric bike equipped with a hub motor. This is because they're much more simple and compact.
Just keep in mind that where the hub motor is located can affect bike performance. Specifically, front hub motors can have an adverse effect on the handling of the bike.
This is why we recommend a folding electric bike with a rear-wheel hub motor over a front-wheel one.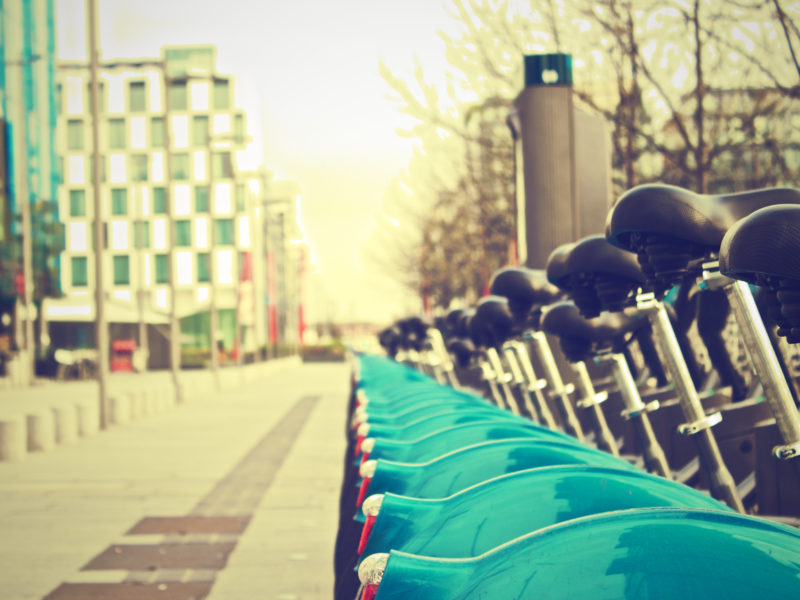 Wheel Size
With folding electric bikes, you have to be careful about wheel size. This is because, the larger the wheels, the less portable and compact a bike can be. Reasonably-compact folding electric bikes usually come with 16-inch wheels. Unfortunately, the smaller wheels can affect acceleration, speed, and of course, ride comfort.
As a general rule of thumb, you'll want to go with 20-inch wheels if you want an electric bike that feels like a standard bike. But you can go smaller if you're willing to sacrifice ride comfort for portability and compactness.
Price
Price is obviously a factor when choosing an electric bike, since they're usually more expensive than the mechanical version. That said, you can get good electric bikes below $2,000 or even $1,000.
Final Thoughts
Bikes aren't for everybody. Even more so when we're talking about electric bikes. But you'd have to admit, it's hard to beat how convenient it is to have a bike that folds neatly into the average car's rear compartment and right under your desk at work.
Not to mention, it takes some of the stress out of having to pedal your way to and from work every day.
With more and more companies trying to take advantage of the growing popularity of folding electric bikes, it's only going to get more difficult to choose the most ideal electric folding bikes for you.
Thankfully, you've got our guide for that very purpose. In addition to our round-up, we also gave a couple of tips on how to choose the right folding electric bike.
---
Related Posts:
Best Upright Exercise Bikes For Your Cycling Needs
Top 10 Most Expensive Bicycles In The World
Best Kid Bike Helmets For Your Child
The Best Mountain Bikes Under $300
The Best Winter Cycling Gear [Buying Guide]