As far as mountain bikes go, Pivot is hard to beat. Even though the brand hasn't been around for a long time yet — Pivot was founded in 2007 by Chris Cocalis — it has taken no time proving itself as a brand worthy of being considered as one of the best in the industry.
This is especially when we're talking about their trail and all-mountain bike offerings, which have garnered multiple awards and recognition from famed bodies.
Priding itself on manufacturing high performing, innovative bikes, Pivot has constantly set the bar for performance when it comes to mountain bikes.
But even amongst Pivot's excellent line of products, there is still a handful that stands out.
Below, we've rounded up some of the best Pivot bikes available on the market today.
What Makes Pivot Bikes the Best in the Industry?
A former BMX racer himself, and a certified mechanic by the United States Cycling Federation, as well as a bike-shop manager, Cocalis lives and breathes bikes.
One of his earlier works, a new crank and a bottom bracket design — which would later become known as the Cyborg crank — that was leagues ahead of its competitors at the time was eventually licensed by Diamondback.
Cocalis, later on, started Titus Bikes, a widely successful brand that he eventually sold in 2006 before starting Pivot, which made name for itself on the strength of their very first model, the Mach 4.
The full-suspension bike was made in partnership with Dave Weagle, the man behind the highly-touted DW-Link suspension. Using dual links as a way to counteract the impact of pedaling on the suspension, riders feel little resistance and movement if any at all.
This results in an efficient and comfortable platform that only gets smoother throughout the ride.
Mind you, this was in 2007. In case you forget, we're already in 2021.
This means that Pivot has had more than a decade to improve upon their initial success and that indeed they have.
Offering some of the best and most innovative products on the market, the only problem with Pivot bikes is its price.
But as long as you're willing to pay a premium, their products are hard to match let alone beat.
What are the Best Pivot Bikes on the Market?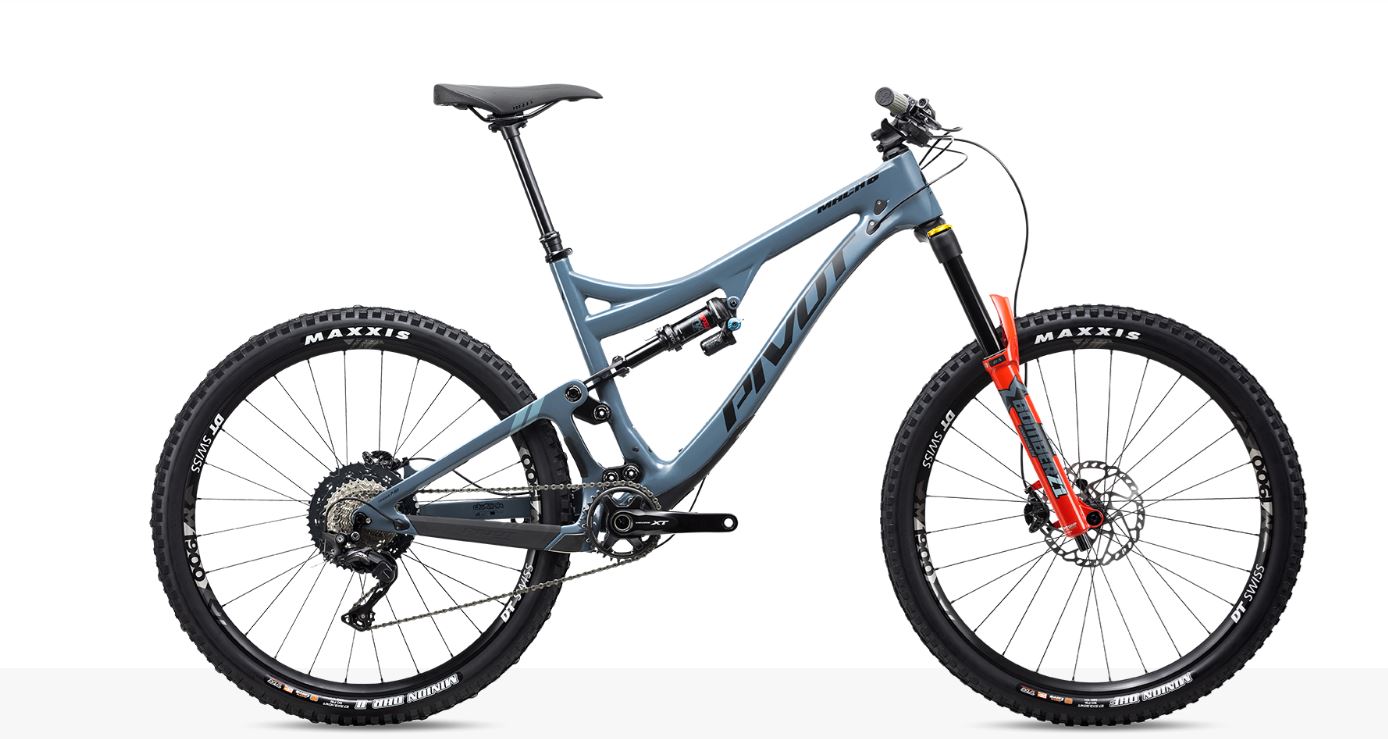 1. Mach 6
This mountain bike is all about aggression. The slack head tube angle is purposely designed along with its steep seat tube angle to give riders all the power that they need to ride through rough terrain.
Along with its light yet durable frame — Pivot made sure that the frame can take a lot of its — as well as the DW-Link design suspension that's built for long travels, as well as a 160mm Fox 36 front fork, the Mach 6 is an extremely worthy purchase despite its relatively high asking price.
It's also offering as an aluminum version, which has similar geometry with the updated carbon version.
Pros:
Makes descents a lot more comfortable and manageable without sacrificing performance
Perfect for Enduro and Trail races
Cons:
Not for flat and smooth trails
2. Mach 4 SL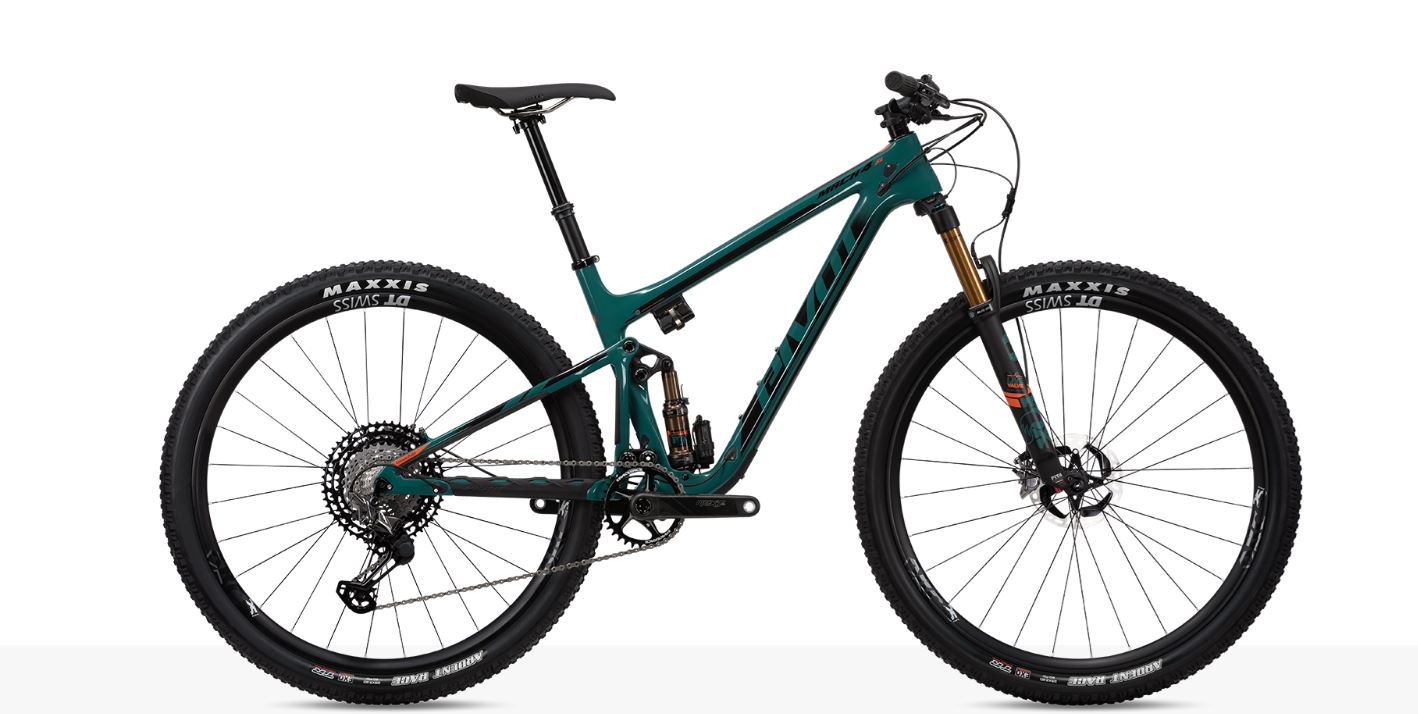 You know that a product is good when a manufacturer keeps on making newer (and better) iterations of it any chance that they can get. The Mach 4 is that product for Pivot.
The product that started it all for Pivot, the Mach 4 will probably sell based on its name alone. However, it's not just a good product because it once was good, it remains just as good as it was if not better.
The Mach 4 SL, for example, is a five-digit bike that more than warrants the high asking price.
Equipped with electronics that do everything from adjusting your suspension every few milliseconds to making sure that your shocks work based on optimal comfort depending on the terrain and your ride angle, the Mach 4 SL will completely transform the way you ride bikes.
Remember, you're not just paying for electronics with the Mach 4 SL. That's just a part of the package. The package, which includes, an extremely light carbon frame, 100mm rear travel, a 10mm fork, as well as a Shimano XTR build kit.
Yes, the Mach 4 SL is expensive, but it's the price that you've got to pay if you want, not just one of the best Pivot bikes, but one of the best bikes in the world.
Pros:
Olympic level performance
Comes in multiple build options
Feather-light frame at 1.8kg
Cons:
3. Phoenix DH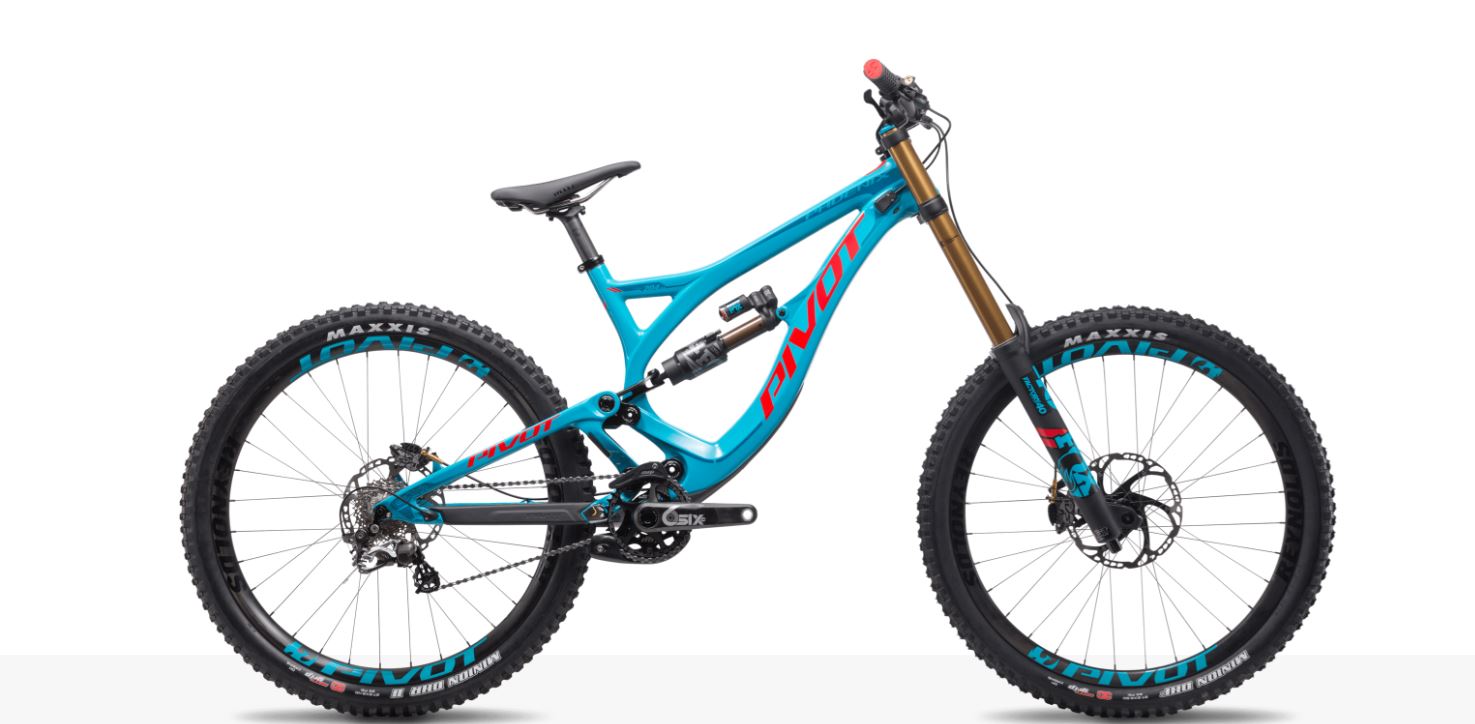 The Red Bull Hardline, Crankworx, and then the World Cup. These are the three places where this downhill bike has proven itself.
If you need further reason to invest in this thing, then it's up to you. But we suggest that we think those three victories first.
Much of the success of the Pivot Phoenix DH comes down to its DW-link suspension, as well as its carbon frame, variable wheel travel path, and anti-squat.
And oh, if you're looking for a bike for ultimate downhill performance, this is pretty much as good as it gets.
Pros:
Perfect for those who want optimal performance on highly technical terrain
Cons:
Heavier and more subdued ride than expected
4. Shuttle E-Bike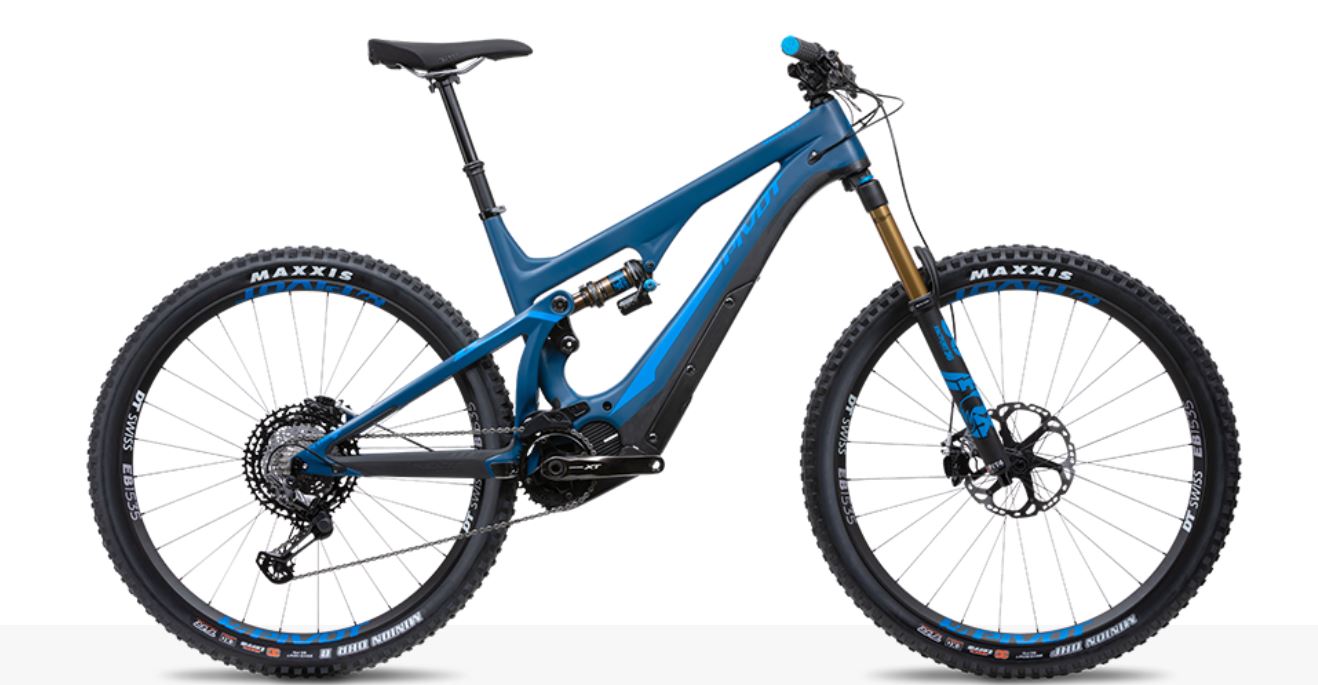 E-mountain bikes get a lot of undeserved bad reputation. However, slowly but surely, this is getting better.
It also certainly helps that companies are starting to offer better products already, with Pivot, in particular, offering one of the best in its class in the form of the Shuttle.
A full-suspension mountain bike — it's equipped with a 150mm fork and a 140mm shock– this e-mountain bike also comes with a 150mm dropper post, a carbon frame, as well as a Shimano E8000 drive unit on top of a Shimano Di2.
But who are we kidding? It's the battery that is the main selling point of this bike.
Featuring a 500Wh battery, the Shuttle is capable of adding as much as 20mph of pedaling power for up to an estimated 40 miles to help you up tough descents.
Pros:
One of the best e-bikes in its class
Relatively light in weight for an e-bike
Dual suspension DW-Link platform
Cons:
Short chainstays for steep climbs
5. Vault Cyclocross
The Pivot Vault Cyclocross is a versatile gravel bike. It's great for gravel, but it's also pretty perfect for everything else.
This includes the road, as well as on technical terrains. So, basically, you'll end up with a multi-purpose bike from one purchase of the Vault Cyclocross.
Much of this has something to do with the Iso Flex sleeve that you can find inside the seat tube of the Vault Cyclocross.
Using a combination of rubber and nylon, the Iso Flex sleeve is what completely changes the entire ride comfort of the Vault Cyclocross.
Instead of the traditional seat tube or seatpost configuration, putting the Iso Flex sleeve in between the frame and the seatpost gives the Vault Cyclocross the type of comfortable ride that makes it perfect for all sorts of terrain.
Combined with its other feature sets, and the fact that it is made by Pivot, and you've got yourself a long-term investment of a bike.
Pros:
Capable of fitting 45mm tires
Relatively light (18 pounds) for a road bike
Cons:
Shorter seatpost affects dropper post choices
6. Trail 429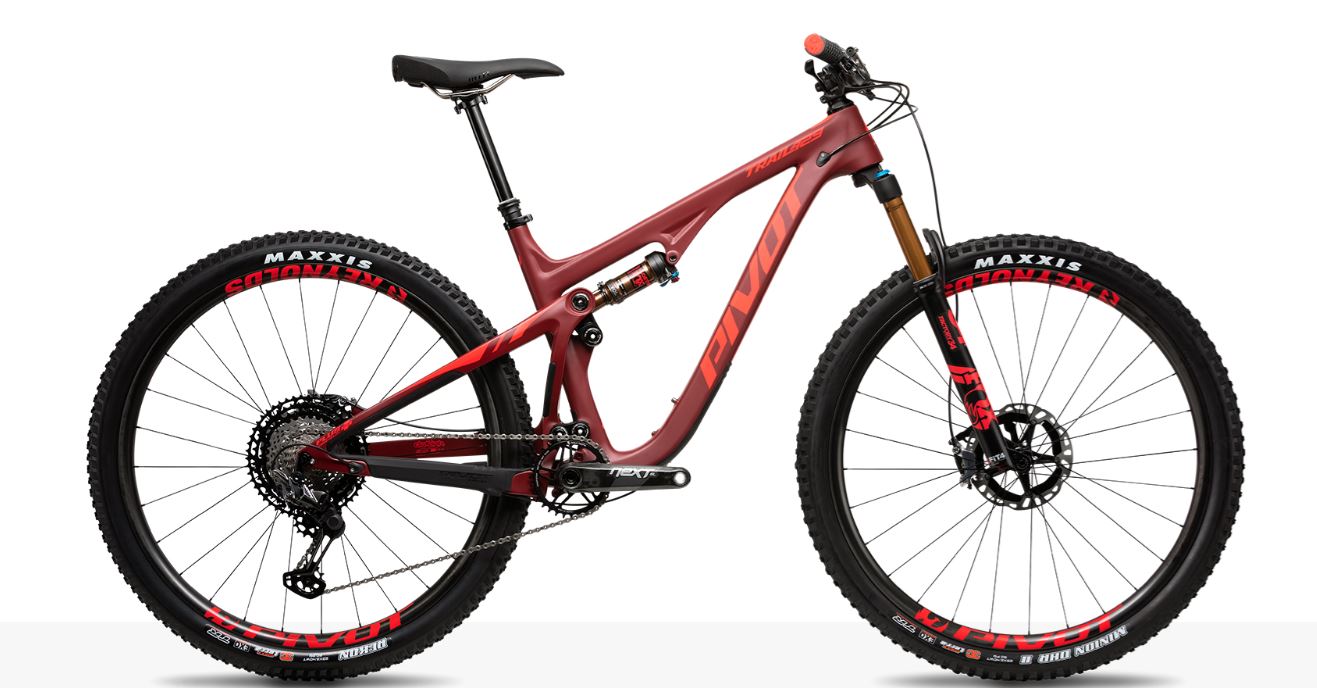 Renamed for some reason, the former Mach 429 Trail is now the Trail 429 and while that decision might baffle some, what will not baffle you is what Pivot changed to make the Trail 429 better than its predecessor.
For starters, the Trail 429 isn't just for tough terrain, as the name suggests. In fact, it's easy to see this appealing to a more "casual" crowd.
Or, at least, those who want something that they can take pretty much everywhere and can ride on a daily basis.
The Trail 429 also comes in three different categories, with Team being the cheapest and Race being the most expensive.
Either way, regardless of which of the three build kits you end up buying, you'll end up getting your money's worth, and then some, with the Pivot Trail 429.
Pros:
Normal-sized fork despite being firstly a cross-country bike
Can be used pretty much anywhere
Cons:
Confusing build kit options
Why the Top Pivot Bikes are Worth the Money
DW-Link Suspension System
The proprietary DW-Link suspension system is widely regarded as one of the best in the world. It's also pretty exclusive, with only a few brands allowed to incorporate the said technology into their products, and Pivot is one of them. This factor alone is what makes Pivot bicycles so much better than their competition.
But what exactly is the DW-Link suspension system? Well, to put it bluntly, it's a suspension technology that minimizes the strain and impact of hard pedaling on the suspension system.
This results in a more stable and solid ride, among other things.
Carbon Technology
Pivot isn't the only manufacturer who uses carbon frames in their set-ups. But what makes them different is that they use their own technology.
In particular, they use hollow core internal molding.
The use of this technology allows Pivot to create light and stiff frames with relatively few imperfections.
Tapered Head Tubes
Most of Pivot's more popular models, specifically the Mach 4, Mach 5.7, Mach 6, LES, Mach 429, and M4X, are all equipped with 56mm lower OD and 44mm upper OD, along with a 1.5 zero-stack headset.
Because of this design choice, the tapered head tubes result in a more flexible, lighter, and stronger ride.
BB92 Press Fit
Alternatively known as the Shimano Press Fit, what this essentially does is that the design helps add more support to the alignment of the bearings and the bearings themselves.
This is because of the lack of external washers or threads. The thread-less shells mean that you have a tightly sealed sleeve bearing inside a light composite resin material.
Direct-Mounting Front Derailleur
Pivot has never been one to be afraid to experiment and innovate. Even in their earlier years, it was as if they sought to disrupt the market.
One of the things that they did that they have continued to refine over the years is their decision to mount the location and angle of the derailleur mounting on the frame on the front triangle.
Using this design allows for a more stable and rigid ride, which is partly the reason why Pivot's mountain bikes are such a pleasure to ride on, regardless of the terrain.
Large Bearings
Pivot uses oversized bearings in their mountain bikes. This design choice is what allows their frames to run smoothly. Not to mention, the size correlates to added durability, making them last longer.
Other benefits include stiffer frames and better linkage.
Caters to Both Men and Women
Pivot isn't just leaders in terms of bike design and performance, they're also leaders in the workforce. In fact, because their staff consists of more than a quarter women — which is a lot compared to other manufacturers within the industry — Pivot is able to make sure that their products meet the demands and specifications of both genders.
Plenty of Build Kit Options
One of the more confusing bits of buying a bike from Pivot is their customization. Because you have so many build kit choices to choose from, it's quite easy to get confused.
However, if you take the time to understand what each build kit is for, you can build your bike from Pivot exactly how you want it, down to the very last detail.
Conclusion
And there you have it, the best Pivot bikes available on the market today.
If you're an avid fan of mountain bikes and is looking to seriously upgrade his or her ride, or you just want to go with the best of the best for your first mountain bike, our list of the best Pivot bikes should help you make a more thoughtful choice as far as your mountain bikes.
Remember, well-performing mountain bikes aren't cheap, especially if we're talking about Pivot bikes.
Before choosing, make sure to consider where you'll be riding it and how often you'll be riding it in particular places, as well as your own personal skills and what you want to achieve with your bike purchase.
If you consider those things first, you'll end up the best bike for your own use.
---
Related Posts:
6 Best Recumbent Exercise Bikes for All Budgets
Top 10 Most Expensive Bicycles In The World
The Best Winter Cycling Gear [Buying Guide]
The Best Mountain Bikes Under $300