Cycling as a form of exercise gives all kinds of benefits, be it physical, mental or even for the environment.
As we're all familiar with the benefits of cycling in general, we should also cycle to work if possible.
Of course, it also depends on how far your workplace is and whether your country is bike-friendly.
Here are 10 reasons you should cycle to work today.
1. Losing weight
One of the obvious reasons of biking to work is that you may actually lose weight.
As cycling is a form of exercise, you do burn calories, just like you do walking.
And if you manage to control your daily intake of calories, while burning more than your body needs, you will lose weight.
If your new year's resolution is to lose weight but you're not willing to put in extra time in exercise, then why not cycle to work?
It kills two birds in one stone.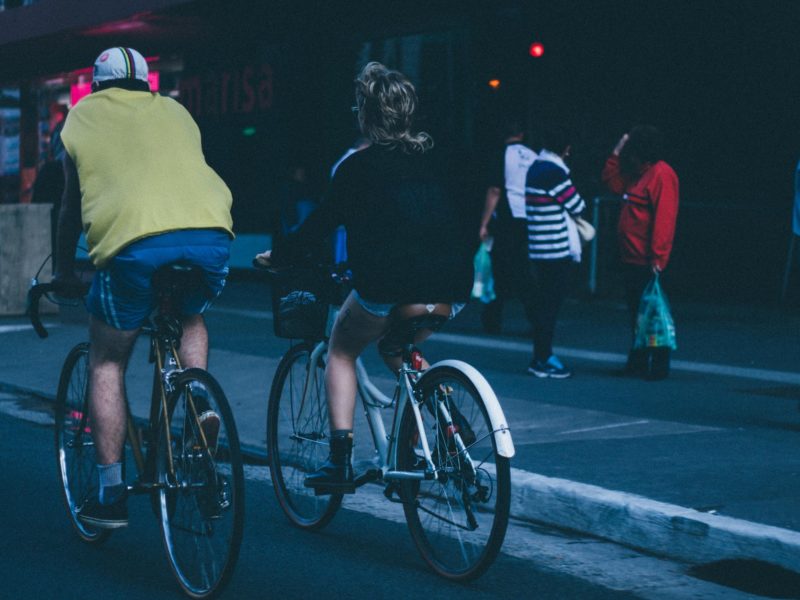 2. Happiness
Cycling is sometimes also associated to happiness, although it's not exclusive to only cycling.
According to New York Times, exercising just a little bit a day can also lead to more happiness.
Exercise in general tends to help reduce your anxiety or stress, and this really helps if you have a lot of work-related issues.
Furthermore, the brain releases more dopamine when you're exercising, and this helps you feel happier for a certain time.
In short, cycling does bring more happiness.
3. Help the environment
Climate change is a real and serious issue, and we should all do our part in reducing its effects.
If you're driving to work, your car will be emitting all kinds of fumes that are bad for the environment.
Multiply that with the number of cars on the road, and the effect is detrimental over time.
Cycling is one way in helping the environment as you won't be releasing any harmful gases.
Additionally, less emissions are produced in creating a bike as compared to a car.
4. Cheaper alternative to cars
Apart from being more environment-friendly, cycling is also a much cheaper alternative to cars, making it more cost-effective.
You can easily buy a commuter bike below $500 these days, thanks to the advancement of tech over the years. There are multiple options as well.
A car will easily set you back tens of thousands of dollars.
Even if you're getting a second-hand car, you're still paying at least a couple thousand for it.
To add to that, you'll need to pump either gas or diesel, and they cost a lot over time.
Most cars require changing of parts over time as well and they cost much more than bike parts.
5. Boosts creativity
Biking is also said to boost creativity and it's especially important for the workforce.
For creatives like artists (digital or not) or even content creators, creativity is a very important factor at work.
Cycling as a form of exercise helps to boost creativity as it helps you relax, giving you space to think.
Once you're at work, you should feel refreshed and ready to contribute.
6. Other health benefits
Cycling to work isn't only good for losing weight, but it also contributes to other health benefits.
Many medical journals have mentioned that commuting (be it on foot or on a bike) does help with reducing heart diseases.
Your risk of getting a stroke is also reduced.
This alone can be a motivating factor for you to start cycling to your workplace.
7. Convenience
Bringing your bike to work is also convenient if your office has a space for parking your bike.
When you're required to go longer distances, a bike does come in handy as a means of transport.
There are places where walking is a little bit too far and time consuming. This is when your bike comes to the rescue.
Bicycles are also more convenient in the sense that you don't need to look for huge parking spaces, unlike cars.
8. Networking
Cycling on the way to work may also help you expand your social network.
You will be meeting other cyclists who are also going to work and you'll be exposed to more people from different jobs.
If you're lucky, you will make new friends or even new clients for your work.
9. Safer for bikes
In a way, if more people bike to work, the road will be safer for all cyclists in general.
You will have less cars around, and a bigger cycling crowd on the road.
Road users will be more aware of your presence and take more precautions.
10. Avoid traffic jams
Last but definitely not least, taking a bicycle to work is a great way to avoid traffic jams.
In many modern countries, you have special bicycle lanes that you can use to get to work.
You can avoid the daily traffic jams on the way to work and even on the way back.
Even if there are no designated lanes, you can usually cycle at the side of the road without problems.
Conclusion
There are plenty of benefits in taking your bike to work and hopefully the list above has proven that.
---
Related Posts:
When Should You Change Your Road Bike's Tires?
Clip-In Pedals vs Flat (Platform) Pedals – Which One Is Better?
Best Mountain Bikes Under $1500
The Top Fitness Tracking Watches For Cyclists